Holiday Club 2019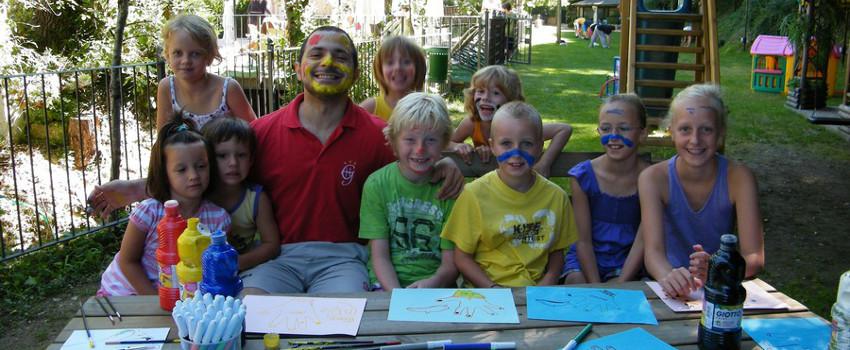 The warmth of the Hotel in the atmosphere of the Holiday Village
Every moment of the year seems to be the good one in thinking of holyday, that's the reason why we are pleased to introduce you to our Holyday Club, available in July and August; a perfect balance between energy and fun for all ages. You will arrive as customer and go back home as friend.
---
Lodging details: From Saturday to Saturday for seven nights minimum. Holyday club starts with the welcome cocktail to get to know each other. The accommodation options are the ones in the hotel rooms, on the double room junior suites and on the triple room suites at Resort Borgo Santa Lucia, a wide choice to accommodate you in the best manner. The holiday period runs from the dinner of the arrival day to the breakfast of the departure date. Every day the international breakfast is buffet style, with the Chef in his show cooking corner. During the afternoon, they are tournaments, excursions and many other activities, but we can find some time to sip a refreshing cup of tea along with our home made patisserie, a relaxing pause in the shadowy garden, and then you'll be able to fully enjoy the rest of the evening.
Restaurant: We'll offer you the best recipes of our typical kitchen for your dinners that will start with the starters' Grand Buffet, side dished with raw and cooked vegetables, dessert and fruits. The first and main courses will be served at your table. Beverages, such water, local wines and soft drinks are included. Every week we'll organize four special gastronomy events: Welcome Dinner, Barbecue Dinner in the garden; the Fish Dinner. Every dinner, children will find an irresistible small menu customized on their taste and needs, prepared with love and care, mom's style. And for infants, we'll prepare warm baby soups, as parents require.
Even though the Club Formula includes breakfast and dinner, it is possible to add lunch with a small surcharge. In this way you don't have to think to organize your lunches.
---
Chef for one day: In a break of the day-to-day activities, our chefs are pleased to organize kitchen stages form elderly and children, with show cooking and practical trials, in order to share with you our passion for food. You'll taste yourself in food preparation to savour. At the end of the show, you'll receive an apron for you to remember that you'll be "chef for one day".
---
Entertainment: Every day is a good day with our staff: prepared guys, nice and never too pushy; they will know how to entertain you respecting your needs: to have fun all together or to rest in complete relax. Get involved in the aperitif game or in the soccer tournament, learn the archery art and find yourself amazing dart players, attend the evening shows freeing your skills and finally find the eternal child hidden in you.
---
Kids' club. At miniclub (kids' club) our smallest guests from 4 to 12 years old could be busy everyday with art activities, workshops and a lot of ecological sport, baby dance and intercultural approach with foreign kids. It will be fun playing all together and learning new words in English or French, kids will find out that smiles and friendship are the same all over the world.
---
Wellness. Our offer include a 90 minutes wellness path with one solar shower available for each room or apartment booked: while kids are playing at mini-club why not thinking about spoiling yourself with the timeless pause in complete relax?
---
Club Card. Club Card is mandatory for adults and children and it entitles you to receive a Guesia Village t- shirt and to use the two swimming pools and the sun beds, to access to the terrace solarium and the fitness area and use its the equipments, the tennis table, the bowls court, beach volley and soccer field, daytime activities with games and tournaments, acquagym, the afternoon tea break, theme nights and baby dance, cabaret, music and shows, playground for children play.
---
Facilities. The Guesia's Courtesy car and the scooter are available to be rent at discounted price, to drive into our beautiful region. You'll get 10{59a60aafb90671f9a48a9480c8b0141a799b2116f32f38475caf6d8271390658}discount for wine purchases at "la Cantinetta da Angelo", for typical products purchases, such extra virgin olive oil and the organic jams at "la Callaia", or for the sport activities purchases at the Excursion Centre Valle del Menotre

***

We are pleased to offer you all that and many other surprises to seduce you and your children with a lot of possibilities of fun, excursions and relax.

[Not a valid template]